When you are in New York, it's always a good idea to spend some time at Central Park. When people think of New York City, they often think of Times Square and the Empire State Building, but if you ask New Yorkers about their favorite places in the city, many of them will immediately bring up Central Park. The park covers 843 acres of green space in the middle of the city, and it has plenty of meadows, lakes, forests, monuments, and impressive architecture. If you are visiting the park for a limited amount of time, then you should know that there is "so much to do and enjoy" in the park so that you can make sure that you're able to experience the best parts of it.
The Pond
The Pond is located in the southeast corner of the park. It's a serene water body that offers an instant retreat from the bustling streets of the city. Above the pond is a forested hill called The Hallet Nature Sanctuary. Parts of it are occasionally opened to visitors, and there is a famous bridge at the northern point of the pond.

Central Park Zoo
One of the must-visit attractions that you must include in your itinerary for sightseeing in Central Park is the Central Park Zoo. There is a zoo where you can see different animals in three zones: polar, temperate, and tropical. In the polar zone, you can see the sea lions perform tricks for food because of feeding times. Kids can feed the sea lions during the feeding times 2pm and 4pm. The Children's Zoo is nearby, so kids can interact with goats.

The Mall
The elm trees bordering the walkway are celebrated in this plaza because they provide a striking canopy. You'll find benches and statues of celebrated authors here, as well as street performers who will entertain you with their talent.
Bethesda Terrace
The Bethesda Terrace is a remarkable place in Central Park. The centerpiece of the setting is the Bethesda Fountain, also known as "Angel of the Waters." It is surrounded by large pillars and walls that are adorned with intricate sculptures.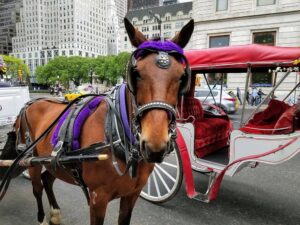 Sheep Meadow
The Sheep Meadow is a vast green space that is one of the favorites of the New Yorkers. For picnicking, playing Frisbee, and soaking up the sun, they flock here in large numbers.
There are many other things you can do in Central Park besides the ones mentioned above, but make sure to book a tour with the best company for your trip.
Conclusion:
The Central Park Carriages provide tourists with an exciting, customized sightseeing experience. If you want to go sightseeing in Central Park, Central Park Carriages provide the most exciting way of doing that. For more information visit https://www.centralparkcarriages.com/