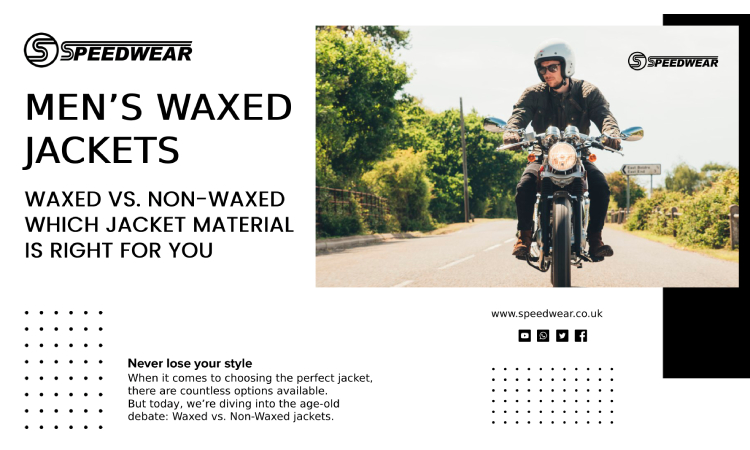 When it comes to choosing the perfect jacket, there are countless options available. But today, we're diving into the age-old debate: Waxed vs. Non-Waxed jackets. If you're in the market for a durable and stylish jacket, you've come to the right place. Let's explore the differences and find out which one suits you best.
Waxed Jackets: A Classic Choice
Waxed jackets have been a staple in men's fashion for decades. These jackets are known for their rugged appeal and weather-resistant qualities. If you're into motorbike riding, you'll appreciate the weather protection they offer. Our collection of Men's waxed jackets is a testament to their popularity.
Why Choose a Waxed Jacket?
Weatherproof: Waxed jackets are built to withstand the elements. Rain, wind, or snow – they've got you covered.
Durability: They age like fine wine. The more you wear them, the better they look.
Motorbike Riding: For those who love hitting the road on two wheels, the Pulford jacket offers UKCA and CE AA-level protection.
Style: Waxed jackets never go out of style. They're a timeless addition to your wardrobe.
Non-Waxed Jackets: Versatile and Stylish
Non-waxed jackets, on the other hand, offer a different kind of charm. They are versatile and suitable for various occasions. While they may not have the rugged appeal of waxed jackets, they have their unique flair.
Why Opt for a Non-Waxed Jacket?
Versatility: These jackets are perfect for both casual and semi-formal settings.
Comfort: Lightweight and breathable, they're ideal for year-round wear.
Motorcycle Fashion: If you prefer a sleeker look while riding your bike, non-waxed jackets are a great choice.
Making Your Choice
When it comes to deciding between waxed and non-waxed, consider your lifestyle and personal style preferences. If you're an avid motorbike rider, our Waxed cotton motorcycle jackets can offer great protection – check out the Pulford jacket for AA-rated protection. On the other hand, if you're looking for a jacket that seamlessly transitions from day to night, our collection of classic waxed jackets might be more your style.
Accessorize Your Jacket
To complete your look, don't forget to check out our accessories. Whether it's replacement wax cotton belts, silk scarves, woven patches, or transfers vinyl graphics, we've got you covered.
Conclusion
In the eternal battle of waxed vs. non-waxed jackets, the choice ultimately comes down to your lifestyle and fashion sense. At Speedwear Ltd, we offer a wide range of options to cater to your needs. Explore our collections and find the perfect jacket that suits your style. Whether you're hitting the open road on your bike or stepping out for a night on the town, we've got the jacket that's just right for you.