With this global pandemic hitting us harder, if you are on the market with a lookout to buy a mask that will protect yourself and others from COVID-19, make sure you go for a three layer mask. You might have already heard this recommendation, the researchers have now found a reason why three layer masks are safer than single or double layer alternatives.
Along with layers, fabrics also play an important role when choosing a mask to wear all-day long. The fabric of a face mask should be more comfortable and breathable.
With a stronger recommendation to wear face masks, it is more important than ever to wear a protective face mask that you can wear throughout the day and be comfortable in. As the weather becomes more humid, having a cotton breathable mask for kids becomes even more important to prevent the inside of the mask from becoming too hot. If the mask is uncomfortable, it will be harder to tolerate and your child will keep on touching his/her face more often to adjust it.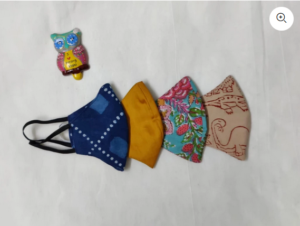 Which is the best breathable fabric for comfortable face masks?
Many luxury fabrics are light, breathable, and soft, such as 100% premium cotton. Cotton is the most common lightweight material that is known for being soft and comfortable to wear. 100% premium cotton insulates sweat and keeps you cool. This makes cotton the best and most preferred fabric for face masks.
How to pick a three layer mask that is best for you?
There are always five things to consider when buying a mask that is for yourself and your children.
Great fitting: Does the mask fit snugly around your face but is not too constricting? The mask should sit comfortably under your chin, fit you perfectly across the bridge of your cheeks and nose, and hug the sides of your cheeks and face without any gaps. This is the perfect way to ensure a proper fit.
Long-term use: Do not forget to check upon whether the mask is washable and will retain its shape without damage after washing.
Moisture wicking: Fabrics with soft material, such as cotton, pull moisture away from your skin, letting you stay cooler.
Breath ability: Look for three layered tight woven cotton masks to ensure breath ability. Do not wear masks made out of fleece or linen as they may not provide as much filtration as 100% premium cotton.
Tips for parents when picking masks for their kids
Size and fit for kids:

It should fit over the nose and under the chin without gaping at the sides.
Keep it fun for kids:

Make it fun and allow them to choose their own mask with their favorite color and print on it. This will more likely make them wear the masks when out.
Explain to them when it is and isn't necessary to wear the mask:

Make your child learn when and how it is appropriate to take breaks from wearing the masks, such as when they are at a safe distance from other people.
For masks with the best breath ability, look for three layer masks of tightly woven cotton. At Indie Project Store, we stock a wide range of three layer, cotton breathable masks for kids. We also house fog free assorted masks for adults and kids, designed especially for those who wear glasses or eye gear. These masks help keep your glasses fog free. Buy them today! https://www.indieprojectstore.com/collections/ips-fog-free-masks?key=43b0b03255057e1ad605a3582742397941ab5c083776b2690bb3bd4877a202b4