You have come to the right place if you are looking for the best Ardell fashion lashes. Recognized and beloved across the globe for being one of the biggest falsies brand, Ardell certainly knows a thing or two about false eyelashes. Here at Madame Madeline, we proudly stock some of the best Ardell fashion lashes in our falsies collection.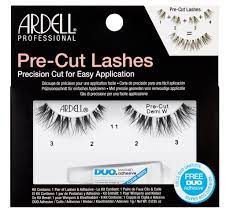 Ardell Fashion Lashes #101 Demi:
A favourite among lashionistas, Ardell 101 is your best option if you are looking for fabulous lashes with full blunt cut. It is the perfect pair of falsies you can own for a smooth, vintage style finish. Made from 100 percent sterilized human hair, these real-looking falsies are available in both black and brown colors. Ardell 101 is especially recommended for large and round shaped eyes. You can wear them to party, wedding, prom, performance, holidays, evening out and other special occasions.
Ardell Fashion Lashes #102 Demi:
Similar to MAC 7 Lash, Ardell Fashion Lashes #102 have a spiky styled cut. The interchanging thin and thick strips of these lashes stunningly improve your own natural lashes. This spiky style is available in brown and black and is similar to Ardell Demi Pixies. These lashes are light in weight, reusable, safe & sterile, easy to apply and affordable. They suit very well for women who have small eyes, large eyes, and almond – shaped eyes.
Ardell Fashion Lashes #103:
Ardell Fashion Lashes #103 looks like a shorter, fuller and darker version of #101 demi. These falsies are handcrafted to exact specifications. Ardell Fashion Lashes #103 work well with DUO Lash Adhesives, Andrea ModLash Adhesives, and Ardell LashGrip Adhesives. Women with large and round eyes will find these lashes very attractive.
Ardell Fashion Lashes #104:
Made from 100 percent sterilized human hair, Ardell Fashion Lashes #104 are long, full and spiky lashes that create a striking look.
What's new with Ardell Lashes?  Find Ardell's new range of fluffy, fluttery and flamboyant lashes called Ardell Naked Lashes. They are whisper-light lashes for everyday wear. They are the perfect for the lash expert and the beginner.  So what sets these lashes apart from the competition? The barely-there lash styles enhance eyes subtly and naturally.  These lightweight lashes create volume with subtle definition and they are most comfortable wear and allows for a seamless, truly undetectable look. Check out Naked Lashes here >> https://www.madamemadeline.com/online_shoppe/products.asp?cat=Ardell+Naked+Lashes
To buy from an exclusive selection of Ardell Fashion Lashes online visit Madame Madeline. Use coupon code discount15 to save 15% off your first purchase. We are committed to offering both the consumer and beauty professionals with the highest quality of Ardell fashion lashes at a discounted price.